An offer Bush, Cheney, Lindsey Graham, & McRomniani should not refuse.

Do you realize just what you say when you spill terrible talking points?

The troops may as a majority harbor traditional patriotic sentiment but they ain't as stupid as our politicians.
Some of them are just plain common sense human beings.
Here's my hurried transcript excerpt from an ABC News film clip (Thanks for the tip to Dan at On The Road to 2008)
"I challenge Bush to come and spend a tour with me. I'll serve another 15 months if he will. They don't need to pay me any more. They don't have to do anything just come here and hang out with me.

We have people up there in Congress with brain of a two year old who don't know what they're doing. They don't experience it.

I challenge the President or whoever has us here for 15 months to ride along side me. I'll do another fifteen months if he comes out here and rides along with me every day for 15 months. I'll do 15 more months. They don't even have to pay me extra."
(edit update)
This is the followup report to the
ABC News report, of Sean Smith's embed with American troops in Baghdad from The Guardian, that aired on 7-16-07.
Here is the written report:
'I Am the Mother of the Driver'
"I am the mother of the driver of the Bradley you see upside down and burning," she wrote. "He was 19 years old and could see the futility of Iraq invasion and occupation."
from
ABC comments
on their newscast exclusive; soldier challenges Congress in 'A Violent and 'Normal' Day in Baghdad' footage. "I am Alex Varela's mother, the driver of the bradley shown here upside down and burning, 6 soldiers from the 1-5 Cavalry out of Fort Hood Texas died on May 19th and I hope the pictures this nation is viewing become an Icon for the occupation ending'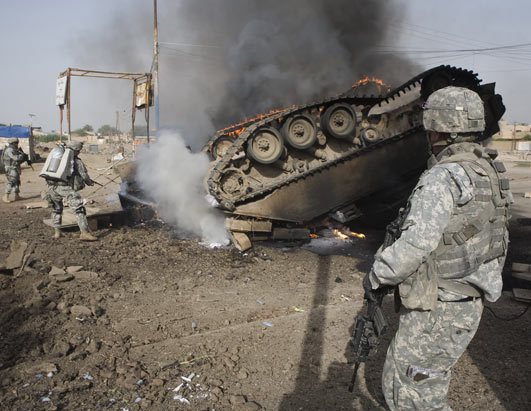 photo at ABC News
Smith captured a deadly attack on a Bradley armored vehicle, seen here. (photo credit -Sean Smith/Guardian)
'I Am The Mother of the Driver"
Reactions to Rare Footage of U.S. Troops in Iraq
(Edit update)
Rarely seen on our News programs. We get major blast news, numbers killed of civilians and how many of our Military Personal, but rare footage of what's happening Daily. ABC News showed a cut of this report on 7-16-07, the Guardian Unlimited has the full report and it was shown on British TV.
"I challenge Congress and the President to do my Rotation!!"
http://www.guardian.co.uk/video/page/0,,2125978,00.html
The Guardian's award-winning photographer and filmmaker Sean Smith spent two months embedded with US troops in Baghdad and Anbar province. His harrowing documentary exposes the exhaustion and disillusionment of the soldiers.
http://www.guardian.co.uk/
Seed Newsvine