Well, now this, I don't know about, and I'm not even sure I would be wanting to take on this project, but it seems all the fashion these days to have granite-looking or marble-looking countertops in the kitchen and bathroom. I'm not too unhappy with our formica or laminate countertops, but I suppose if we wanted to get fancy or look like we are upgrading, this is a project we could take on. Well not until we get those stairs finished. I think I better post this one to our houseblogs, too. I first posted it to my blog
Everything old is new again.
.
Suggestions for transforming old formica countertops - from
Thrifty Fun.
(

My disclaimer - these are other people's ideas, suggestions and projects. I have no experience whatsoever with doing anything to alter the appearance of formica countertops

.)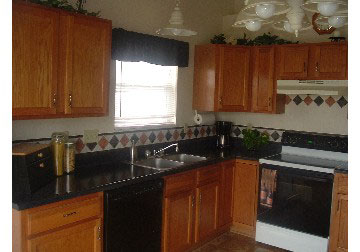 and close up